Don't be fooled, frozen yoghurt self-serve did not out live its days in the 80s as some may want you to believe.
In a time where time, efficiency and control are paramount, the self-serve revolution is taking over. In fact, the frozen yogurt self-serve concept is all too often the deciding factor for realtors when looking for a successful business to employ in their building. They know that self-serve is on trend and the concept allows for the smooth processing of a lot of customers with lower overhead costs required. A self-serve solution is flexible and adjustable even in a small location. Tables are not required and the personnel cost is reduced at minimum.
It is a novelty for people of all ages. The experience of choosing a variety of flavours and toppings depending on personal taste is unforgettable. Customers can mix flavours together to develop their own creation. They can decide on the ratio of yoghurt to toppings, and only pay for the amount they feel like eating. This concept is creative and fun for all customers!
[one_third]
I Love frozen Yogurt represents the best equipment that the world has… Read more.
[/one_third]
[one_third]
Made fresh with high quality, natural ingredients and available in… Read more.
[/one_third]
[one_third_last]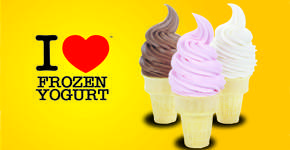 Now a days brand is everything. Make your shop shining… Read more.
[/one_third_last]
FOR MORE DETAILS TALK TO OUR EXPERTS! 1800 625 677